Skip to main content
The Hut Life
Restaurant life. The ultimate IYKYK. Yes, sometimes you'll go home with sauce on your shirt or cheese on your shoes, but it's hard to put into words the kind of lifetime bonds that you can make. Yes, there are opportunities to challenge your mind and grow your skills. Yes, there are tons of upside to working with a brand like Pizza Hut®. But, when it all comes down to it, for a lot of people, it's the ability to work with a team that becomes like family.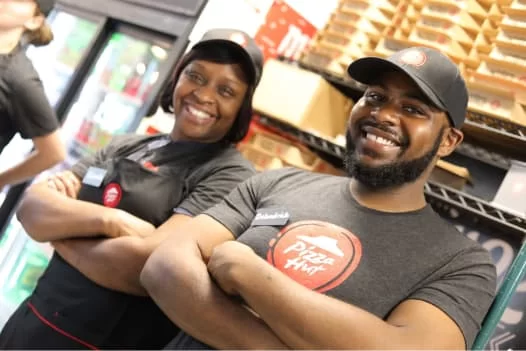 Perks
Pizza Hut and our franchise partners offer an array of benefits to restaurant team members.
Education
Pizza Hut and our franchise partners are committed to helping unlock potential to become your best self. The Life Unboxed EDU program gives Company employees and Franchise Organization employees a discount off undergraduate and graduate tuition through Colorado Technical University (CTU).
GED Works Program
Every year, roughly 750,000 people work to improve their educational and employment prospects by taking the General Educational Development test, or GED, long considered to be the equivalent of a high school diploma. This program allows participants to study and take the GED equivalency exam at a discounted rate.
Discounts
You won't need to spend your time scouring the web anymore for online discount codes that are still active when you have the Pizza Hut Perks program working for you. The online discounts site is available 24/7 to find you the deals you need for everything in your day-to-day life.
Flexible Schedules
Pizza Hut and our franchise partners work hard to make sure your schedule meets the needs of your life. Flexibility is key to how work actually works. Times have changed.
Grow with Pizza Hut
As Pizza Hut and our franchise partners continue to grow, we want you to grow with us. We have a history of people fulfilling career paths at Pizza Hut. Throughout the years, we've witnessed cooks go to corporate offices, and drivers become franchise owners; however, this isn't coincidence. Pizza Hut and our franchise partners foster development and encourage growth professionally, personally, and academically.
Work for Us
Award winning leadership programs available to our franchise partners encourages and supports career development.
Shift Leader Training
The curriculum helps you become an outstanding Shift Leader, and provides foundational leadership skills throughout your career.
Restaurant General Manager Training
RGM Training guides you to become the best Restaurant General Manager, taking your career to the next level.
Area Coach PHD
Pizza Hut's development programs don't stop at the restaurant level. The training experience provides leaders with the opportunity to learn from case studies and one another, truly allowing above-restaurant leaders to take their careers to the next level.